Villa Layout
In a contemporary interpretation of traditional Balinese living, Villa The Beji comprises a dozen living and sleeping pavilions loosely arranged in a U-shape within the 6,500-metre gardens, fanning out from the lawn and 21-metre swimming pool. From the entrance, a path leads to the open-sided living pavilion and, beyond an alfresco decked sitting area, the dining pavilion, with a western kitchen behind, a guest washroom, and steps to the media room above. Mirrored on either side of the lawn are two guest bedroom pavilions with open-sided lounges in between, and the two master bedroom pavilions facing each other across the length of the pool. In the recreation area bordered by rice fields is a tennis court and balé, mini football field, and a gym.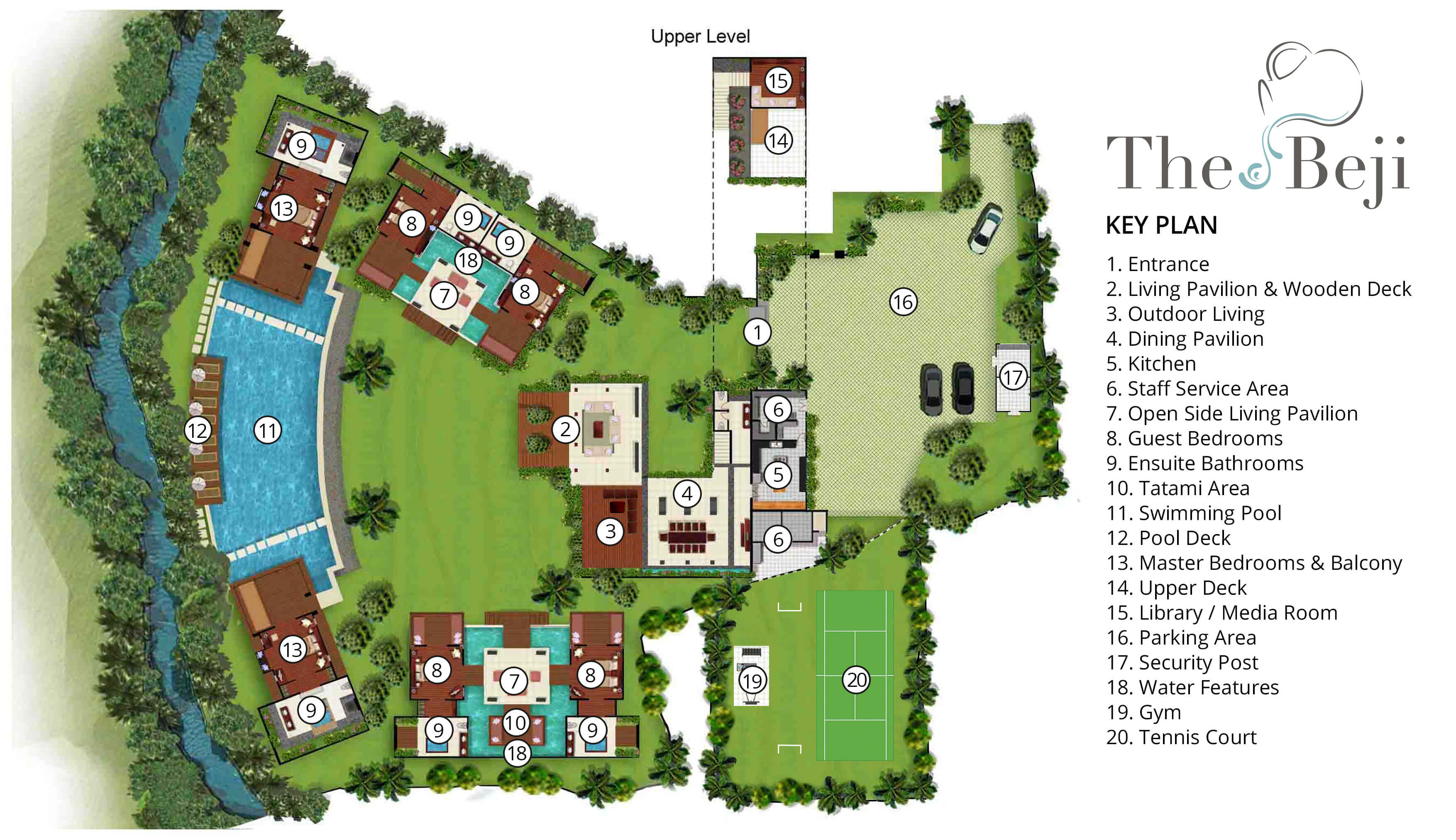 Download in high resolution
Living Areas
The sheer amount of living space is one of the pleasures of staying at Villa The Beji. It is easy to enjoy each other's company in the main living and dining pavilions, but there's plenty of lounging space and quiet corners for those who seek a break from the crowd.
Living pavilion
The breezy fan-cooled living pavilion on the upper terrace presides over sweeping view towards the pool beyond a water-wall cascading to the lawn. Supremely comfortable sofas invite conversation and repose in equal measure here in The Beji's social heart.
Dining pavilion
A four-metre-long dining table commands centre-stage in the villa's open-sided dining pavilion. Hand crafted from a single piece of teak, it rests on a stone floor under a vaulted ironwood roof, flanked by a river-stone pond and gallery of antique statuary from the owner's private collection. It's a handsome space for leisurely fan-cooled lunches or breezy candlelit dinners surrounded by birdsong and the soothing tinkle of water in the background.
Behind a wall of Palimanan stone lies the professionally equipped western-style kitchen — the domain of the villa chef, but of course guests are welcome to use it too.
Media room
The only upper-level room at the villa, and a sure-fire hit with the kids, the media room offers an air-conditioned sanctuary under a vaulted roof. A comfortable L-shaped sofa, two ottomans and a pair of squishy beanbags are set before a 60-inch TV with sound system, DVD player and Playstation 4. There's a digital movie library, shelves of fiction and children's books, and lots of toys. And those with a little homework to do while on holiday will find the desk handy.
Lounge pavilions
Sandwiched between the guest bedroom suites, two open-sided lounges face each other across the lawn — perfect shaded spots for watching over the kids as they play on the lawn, or for some quiet 'time out' from the family. One of the pavilions has a Japanese tatami-style platform rising above a koi pond, where guests may enjoy a massage soothed by the sound of fountains.
Terrace lounge
On the upper terrace between the living and dining pavilions, this alfresco lounge offers yet another space for sprawling in cushioned comfort on all-weather seating surrounded by scented frangipanis — at night a romantic spot for cocktails under a canopy of stars.
Pool terrace and sun deck
Flanking the 21-metre pool is a sun terrace dotted with sunbeds-for-two, shaded by parasols. Resting on the manicured lawn opposite are more sun-loungers and a statement sculptural loveseat. Shallow zones within the pool accord semi-submerged seating to cool off in the heat of the day.
Gym and sports area
A large area devoted to sports lies to one side of the villa estate, bordered by working rice fields. The floodlit tennis court with its umpire chair and bale invites hearty family tournaments — or use it as a basketball pitch. Alongside is a flat area with soccer nets, and a trampoline for kids to work off their excess energy. Within this space, an air-conditioned pavilion houses the gym, where guests may use the free weights and work out on the treadmill, cross-trainer, and air rower while enjoying pleasing views.


Villa The Beji offers six unusually spacious and superbly decorated bedroom suites, each occupying its own luxury pavilion, with four-poster beds sitting on parquet floors, enormous semi-alfresco bathrooms and a large covered balcony or terrace with built-in daybed and armchairs. High-end furnishings include King Koil mattresses dressed in quality cotton bedding, there's a choice of air-conditioning or ceiling fan, and all suites have a TV and DVD player.
Two master bedroom suites
The villa's two magnificent master suites each have enormous balconies and direct access to the 21-metre pool where stepping stones create a shallow section that's almost like a private pool for each suite. The balconies are furnished with armchairs and a huge 4 x 2m daybed — perfect for languishing while keeping an eye on the kids. Within each suite is a four-poster bed swathed in mosquito netting, alcove seating and armchairs set before a 32-inch TV and DVD player. The master bathrooms are palatial, with twin basins, rain shower and, facing a bank of tropical greenery, statement bathtub set into a nautical-style teakwood platform with recessed seating.
Four guest suites
The four guest suites occupy individual pavilions arranged in pairs on either side of the lawn. Separated by an open-sided lounge with steps across a koi pond, each pair comprises a suite with a four-poster super-king bed, and a suite with two four-poster single beds — an arrangement particularly suitable for families. Each suite has a desk, seating before a 26-inch TV and DVD player, a dressing area, and bathrooms with twin sinks and sunken bathtub, and an alfresco rain shower. Facing the lawn and surrounded by tropical greenery, each suite's large terrace has comfortable built-in seating and armchairs.